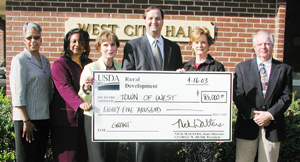 When I used to be the state director of USDA Rural Development, I would give out these big over-sized checks to applicants for successful grant applications. Most of them were for loans but who was complaining when they got a 40 year loan for 4.5% interest?
Check Out Our: Grant Writing Knowledge Base
People started calling me Saint Nick – that's only because of the Santa Claus analogy and NOT the sainthood part.
Nowadays when I'm asked what I do for a living and I say I connect people to money, inevitably their response is just as yours likely was – "Well bother hook me up with some of that!"
For businesses their opportunity for grants is like Ivory soap, with 97% of the funds purely going to a non-profit or a government agency. While it accrues to the benefit of the business, the actual check is written to another entity almost all of the time.
"Free money" can certainly come to individuals and businesses. The Pell Grant program has helped many many people afford to attend college. Really large corporations racked up during the stimulus bill for energy projects. You may have seen some press on that one.
But for small and medium size businesses the grants available are most likely going to an intermediary. For example we have a client that invented a patented procedure that will make bio crude oil out of wastewater sludge. We get names like "sludge" because it sounds like what it is. Can you imagine what's left over after sewerage is processed? Sludge is starting to sound like a nice and gentle way to describe it isn't it? The university professors who created the procedure release some magic bugs into the process and eventually they get oil. Don't ask me to explain it but it works.
There is a waste-water treatment entity – a public water/sewer authority – we are working with that has tons of sludge every year and the waste-water folks would love to have this process in place to get rid of their sludge. Our clients ( the professors) would love to take the sludge and make money selling oil and are happy to share the profits with the waste-water group.
The chicken and egg is construction the oil refinery and that process will take millions (which is coming from private investment and loans) but no investor will put money into a project without a full blown feasibility study. Here comes the grant money. We are writing a grant for the waste-water authority to receive funding for the feasibility study. The results of the study will be the basis for private investment, job creation and something very positive for the environment. Keep in mind our clients aren't getting the grant money but they are getting the benefit of those funds.
Before you get too fired up about a grant for your business you need to assess your relationship with your chamber of commerce or your city. Here's a few questions you could expect them to ask and we'll assume these are from your local economic development agency:
What's my risk? What if all this stuff goes to you-know-what-in-a-handbasket?
How much will it cost me?
Who is going to write the grant application?
How much time will it take for our staff?
How much after-grant paperwork is involved?
How many people are going to be employed?
How do I know you're going to stay in business?
Keep in mind the public will know all about the application for your grant so there may be some positive local press for you.
Why would the chamber help you? Are you a member? Are you an active member? Are you the type of person who the community trusts? Is this yet another venture/hair brained scheme you've come up with in their eyes?
Keep in mind you'll most likely be asking some other group to show you the money. Maybe its time to invest in that chamber membership?